Products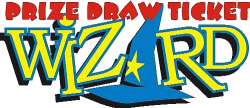 The Prize Draw Ticket Wizard software package has been developed to enable fundraisers to design and print high quality prize draw or function tickets quickly and cheaply using their home PC and printer.
Ticket Wizard is easy to use and guides users through the content requirements of a prize draw ticket. Tickets are printed onto standard A4 paper and an ingenious perforating tool is also provided to achieve that professional finish to the ticket and tear off stub.
Ticket numbering options allow books of tickets to be readily produced as in Prize Draws or in a simple serial format for function or event tickets.
Users are able to change the fonts, sizes and colours of any of the text on the ticket. Pictures can be incorporated into the ticket design either from the Ticket Wizard Picture Library or from any external source. Text and pictures can be easily moved around the ticket design using the simple click and drag method.
Click here for more information on the Prize Draw Ticket Wizard